Powoli opadaj± ju¿ emocje wywo³ane przez premierê Call of Duty: Black Ops, co nie oznacza jednak, ¿e grze grozi w najbli¿szym czasie zapomnienie. Treyarch w³a¶nie wypu¶ci³o nowe aktualizacje do wersji pecetowej, a jeden z fanów dokopa³ siê w plikach gry do informacji o tym, co mo¿e siê znale¼æ w przysz³ych DLC. Co wiêcej, odbudowa studia Infinity Ward dobieg³a ju¿ ponoæ koñca.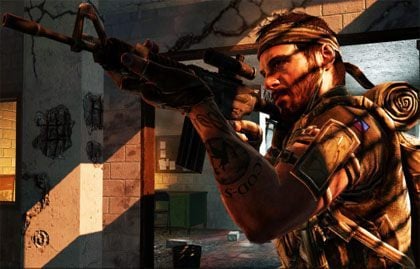 Zacznijmy od wypuszczonych niedawno dwóch nowych aktualizacji wersji pecetowej (po jednej dla trybów single oraz multiplayer), które s± automatycznie pobierane przez us³ugê Steam. Tradycyjnie poprawiaj± one sporo b³êdów i optymalizuj± grê. Od pewnego czasu wiem równie¿, ¿e Call of Duty: Black Ops bêdzie bardzo intensywnie wspierane materia³ami DLC. Zajmowaæ siê ma tym nie tylko Treyarch ale wed³ug ostatnich doniesieñ równie¿ Raven Software, czyli studio, które ma na koncie wyprodukowanie m.in. tegorocznego Singularity. Pewne zatem jest, ¿e dodatków bêdzie sporo, powstaje jedynie pytanie co dok³adnie siê w nich znajdzie.
Jeden z fanów gry dokopa³ siê w jej kodzie do ró¿norodnych niewykorzystanych w wersji ostatecznej elementów, w tym niedokoñczonych map. W¶ród nich znale¼æ mo¿na poziomy multiplayer, których akcja toczy siê w miastach takich jak Berlin oraz Monachium. Bardzo prawdopodobne, ¿e zostan± one teraz dokoñczone i znajd± siê w nastêpnych rozszerzeniach DLC. Polecamy odwiedzenie forum niemieckiej strony fanowskiej, gdzie mo¿na obejrzeæ bogat± galeriê nowych elementów znalezionych w kodzie gry.


Screen z niedokoñczonej mapy berliñskiej.

Jak ju¿ wiemy, Call of Duty: Black Ops okaza³o siê ogromnym sukcesem. W ci±gu piêciu pierwszych dni od premiery gra zarobi³a 650 milionów dolarów, czyli o 100 milionów wiêcej ni¿ uda³o siê uzyskaæ w takim samym czasie Call of Duty: Modern Warfare 2. Mo¿na wiêc spokojnie stwierdziæ, ¿e studio Treyarch wysz³o wreszcie z cienia swoich wielkich poprzedników.
Zadowolenia z takiego obrotu sprawy nie kryje Jean-Bernard Lév, czyli prezes firmy Vivendi, której w³asno¶ci± jest Activision Blizzard. Stwierdzi³ on, ¿e zespó³ Treyarch stworzy³ grê lepsz± ni¿ cokolwiek, co by³oby w stanie wyprodukowaæ w zesz³ym roku Infinity Ward. Wyjawi³ on ponadto, ¿e rekonstrukcja tego drugiego studia zosta³a ju¿ zakoñczona i rezultaty s± bardzo obiecuj±ce. Przypomnijmy, ¿e kilka miesiêcy temu zespó³ ten opu¶ci³a wiêkszo¶æ licz±cych siê ludzi, którzy za³o¿yli nastêpnie now± firmê nazwan± Respawn Entertainment. Warto te¿ wspomnieæ, ¿e nad kolejnym Call of Duty pracuje te¿ ekipa Sledgehammer i wed³ug ostatnich plotek jego akcja mo¿e siê toczyæ w realiach science-fiction.